The Decompression Difference
Apex Chiropractic uses one of the most advanced and sophisticated decompression table cleared by the FDA and Health Canada. We use the next generation Z-Grav (Zero Gravity Decompression Table). There are similar tables like the DRX9000, VAX D, DOC decompression, Hill DT, SpineMed, etc. However, our Z-Grav is developed by Carlos Bacerrios, a world-renowned medical researcher and one of the first people to discover spinal decompression. It has a variety of decompression programs and adjustable variables to treat some of the most difficult cases. The decompression angle can also be adjusted to target specific discs.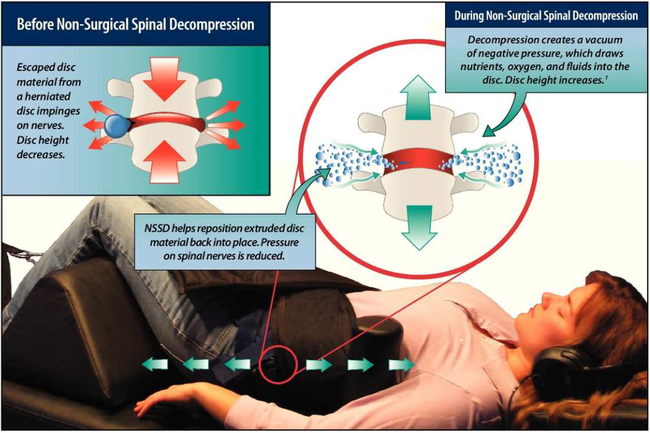 Nonsurgical Spinal Decompression differs from traction and inversion because it is the only treatment that can create a vacuum in the disc.

What about traction or inversion tables?
​When traction (like the Triton DTS) or inversion is applied, the body's natural reaction is to pull in the opposite direction. Spinal decompression equipment contains sensitive computer-feedback mechanisms, such as strain gauges, to overcome this phenomenon and allow for maximum therapeutic results. A strain gauge is designed to convert mechanical motion into an electronic signal. This allows the equipment to continuously monitor muscular reaction and to compensate by re-adjusting its distraction parameters. Each treatment is centered on a variety of adjustable logarithmic ramp-up, hold and release protocols implemented by the computerized system designed to bypass the proprioceptive response of ligaments and muscles to distraction. By comparison, physiotherapy, traction, chiropractic or osteopathy cannot adequately bypass the body's protective proprioceptive response and therefore cannot create negative intradiscal pressure for extended periods

Pressure in the nucleus pulposus of herniated lumbar discs is -100 mm Hg when distraction tension is applied from decompression therapy. The lowest intradiscal pressure measured during traction was 40 mm Hg compared to 75 mm Hg resting supine position. Standard decompression therapy differs from standard traction by creating a unique prolonged negative intradiscal pressure which creates a vacuum to draw in fluids, oxygen, and nutrients. Decompression is a quantum leap in traction therapy!