About the next generation LiteCure Laser Therapy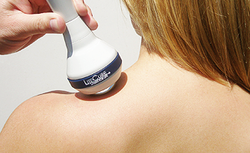 Apex Chiropractic Coquitlam is proud to be one of the first clinics in the Vancouver area to offer LiteCure Laser Therapy. We are the first clinic in the Tri-Cities to offer this next generation healing modality! LiteCure is up to 3000 times more powerful than conventional lasers.

Laser Therapy is a FDA and Health Canada cleared modality that reduces inflammation and ultimately results in pain reduction. Laser Therapy is effective in treating acute pain, chronic conditions and post-op pain.

LiteCure is the therapy of choice for athletic trainers in the NFL, MLB, NBA, NHL, FIFA and Olympic teams.

Laser therapy treatment is safe, painless and fast. Deep Tissue Laser Therapy treatments are administered in 5 to 10 minutes. Typically patients see results after 3 to 5 treatment sessions. Deep Tissue Laser Therapy utilizes your body's own healing powers by stimulating celluar activity. Despite fast treatment times, laser therapy treatments initiate a healing process that continues to actively reduce inflammation for up 24 hours after treatment. During treatment you will feel a soothing warmth that identifies the beginning of an 18-24 hour process of modulated cellular activity leading to decreased pain and inflammation.

Laser therapy is billed under chiropractic and is covered by most insurance plans.

LiteCure Medical is the preferred brand of professional athletic trainers and is a clinically proven modality. LiteCure Medical is the leader in scientific research and education.

---
"We have been using the laser successfully to treat conditions such as plantar fasciitis, hamstring pulls, and other nagging injuries. All the players love the laser. The treatment times are fast and the results are obvious. Our pitching staff use the laser as part of their normal warm up and rehab treatments. The laser is instrumental in getting players back on the field earlier than expected after severe injury. We have used low level lasers in the past, the big difference with LiteCure lasers is the faster treatment times and consistent positive outcomes."

George Poulis, MA, ATC, LAT
Head Athletic Trainer for the Toronto Blue Jays®

What does Laser Therapy do?

Laser therapy has demonstrated its ability to significantly accelerate and enhance the body's natural defense and repair system. It does so through the action of photo-stimulation of light reactive biological receptors (chromophores) in the body. Laser therapy is consistent in providing pain relief and reducing tissue damage as a result of injury. Also, it minimizes the loss of function by modifying the effects and limiting the duration of inflammation. Through specific repair and healing processes, it facilitates rapid cellular repair and produces stronger healed tissue structures. Multiple clinical studies have noted the following results of Laser therapy:

• Increased collagen production
• Enhanced nerve regeneration
• Increased vasodilatation
• Reduced inflammatory duration
• Increased cell metabolism
• Increased pain threshold
• Increased cell membrane potential
• Reduced edema magnitude
• Increased microcirculation
• Increased tissue and bone repair
• Increased lymphatic response


How does Laser Therapy work?

Lasers work when light receptive chromophores are irradiated with coherent laser light. The transferred energy stimulates increased action in cellular and sub-cellular tissues. Penetrating much deeper than other incoherent light wave forms, laser light activates increased mitochondrial ATP synthesis, mitigates mast cell inflammation and increases Ca++ ion presence and beneficial reactive oxygen species (ROS) production. Through the action of photo bio-stimulation, oxidative metabolism is increased via cytochrome C oxidase and photosensitization of hemoglobin. Laser irradiation stimulates increased endorphin release and increased prostaglandin synthesis. Photon-stimulation leads to both localized and systemic reactions that result in immunomodulation and reduction of inflammation. Damaged skeletal, connective and neurological tissues and structures react with enhanced healing with lasers.

Cells are energized so they can heal!