Impulse iQ Adjusting®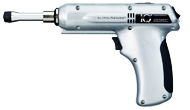 Just as lasers have replaced scalpels in some surgeries, advanced technology has become available to chiropractors to assist in delivering chiropractic adjustments.

Your chiropractor uses the latest chiropractic technology in caring for you using the Impulse iQ Adjusting Instrument®. This patented and FDA registered device was developed to provide gentle and precise computer-aided chiropractic adjustments to relieve pain and restore function. Impulse iQ® is controlled by micro-computer circuitry housed within the device that produces a controlled force that chiropractors can use to treat different areas of the body. Computer-assisted chiropractic adjusting with Impulse iQ® gives the doctor objective feedback about how your problem area is responding in real-time for custom tailored treatment just for you.

The state-of-the-art Impulse iQ Adjusting Instrument® has a high-tech sensor that provides information from your body's response to chiropractic adjustments to a micro-computer inside to give the doctor feedback about your results.

COMPUTERIZED ADJUSTMENT
High-tech computerized adjustments with Impulse iQ® actually precisely measure how the spine is moving during the treatment so that just the right amount of care can be provided.

RESEARCH
Years of research have gone into the development of the Impulse iQ Adjusting Instrument® to create gentle and specific chiropractic adjustments that are safe and effective for patients of all ages.

CONTROLLED FORCE
Impulse iQ® has three different force settings for different parts of the body and to treat patients of all ages. The controlled low force thrust of Impulse® make treatments comfortable.

EXTREME SPEED
Impulse iQ® is twice as fast as other adjusting instruments and 100x faster than manual chiropractic adjustments. The gentle thrust is faster than the body's tendency to tighten up and resist the adjustment. The gentle thrust is faster than the body's tendency to tighten up and resist the adjustment.

THE TREATMENT
In most cases the treatment is painless and after the adjustment many patients feel relief of pain and improved mobility. Others report a sense of well-being or a soothing calm feeling. Of course, results vary from case to case and chronic conditions, inflammation, or muscle spasms may delay these positive effects.

Impulse iQ is the instrument that is more advanced than Activator, ProAdjuster, and ArthoStim. And it is backed by thorough research!

Drs. Willie and Bobby are trained in both manual (hands on) adjusting as well as instrument adjusting. There are advantages to both types of treatment and Dr. Yip will work with you to determine if one or a combination of different types of treatment is right for you.


---
Impulse adjusting clinical studies