IV Vitamin Therapy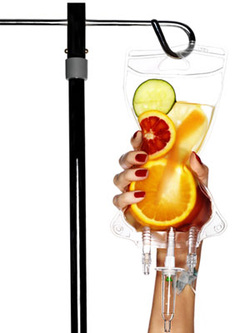 What is a Myers' Cocktail?
A solution mixture of vitamins and minerals invented over 30 years ago by John Myers, MD, a physician from Baltimore. This solution, typically given in larger doses than are present in vitamin pills, is delivered intravenously to maximize availability of such vitamins.

A classic Myers' consists of magnesium, calcium, B vitamins, and vitamin C, which has been found to be effective against:
• Migraines or Headaches
• Fatigue (including chronic fatigue syndrome)
• Acute muscle spasm
• Acute infections/colds
• Allergies
• Depression
• Athletes who need quick recovery for athletic events


When would a Custom IV Push/Drip be beneficial?
Intravenous vitamin therapy is able to offer larger doses of vitamins to the body in times of deplete (either acutely or chronically). Dr. Alice is able to customize vitamin mixtures specific to your needs. IV Vitamin Therapy can help for:
• Hangovers
• Energy Boosting
• Immune Boosting
• Metabolism Boosting (Weight loss)
• Stress
• Recovery (after injury or illness)
• Athletes (to fuel up before an event, or for recovery after an event)


What is the difference between an IV Push and an IV Drip?
The total volume of fluid introduced intravenously is significantly lower in the IV Push compared to the IV Drip; therefore, it takes longer to complete an IV Drip. Certain customized mixtures may require more dilution to balance with intravenous conditions, which is best achieved using an IV fluid bag to control delivery of vitamins. This means the IV Drips tend to allow more vitamins to be included in the mixture. The Myers' Cocktail is typically done through an IV Push. Dr. Alice can help you determine which is most appropriate.
---