Extracorporeal Shockwave Therapy (ESWT)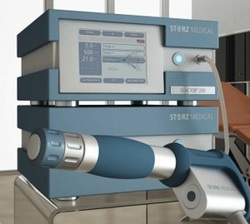 ESWT available at Apex Chiropractic Coquitlam.
Apex Chiropractic Coquitlam is one of the first chiropractic clinics in the lower mainland to offer Extracorporeal Shockwave Therapy (ESWT). In the Tri-Cities, we are proud to be the first clinic to offer this effective and research proven treatment.


What is ESWT?
Extracorporeal shock wave therapy (ESWT) is a modern and highly effective treatment method: high-energy sound waves are introduced into the painful areas of the body. With this innovative therapy approach, pathological alterations of tendons, ligaments, capsules, muscles, and bones can be eliminated systematically.

The beneficial effects of shock wave therapy are often experienced after only 1 or 2 treatments. The therapy eliminates pain and restores full mobility, thus improving your quality of life.


Why ESWT?
1. Non surgical treatment
2. No side effects
3. Accelerates healing
4. Affordable
5. Long lasting and usually permanent results
6. Few treatments required (typically 3 to 6 treatments)
7. Coverage available from most insurance companies as it is billed as chiropractic

---

What does ESWT do?
Shock waves accelerate the healing process by mobilizing the body's self-healing powers. They stimulate metabolic activity and improve blood circulation. Damaged tissue gradually regenerates and eventually heals.

Shockwave treatments are non invasive that promote and accelerate the recovery of injured tissue. This is why it is recognized as the Tissue Regenerator!


Shockwave therapy works by neovascularization of a hyaline degenerative tissue whether it is a tennis elbow or plantar fasciitis. This picture by Dr. Wang in Taiwan illustrates the significant difference in new blood vessels between the control group that has no shockwave treatment on a dog's achilles tendon and shockwave treatment on the other tendon. One can clearly see the new vessel formation in the treated group of dogs with induced achilles tendinopathy.