Coquitlam Deep Tissue LiteCure Laser Therapy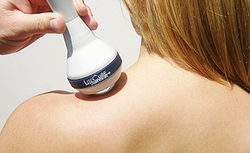 Apex Chiropractic Coquitlam is the first clinic in the Tri-Cities to offer this next generation healing modality! Deep tissue laser therapy is up to 3000 times more powerful than conventional lasers.
Laser Therapy is a FDA and Health Canada cleared modality that reduces inflammation, decreases pain, and jump starts the healing cascade. Furthermore, Laser Therapy is effective in treating acute pain, chronic conditions and post-op pain.
Laser therapy at Apex Chiropractic is billed under chiropractic and is covered by most insurance plans.
LiteCure is the
therapy of choice for athletic trainers
in the NFL, MLB, NBA, NHL, FIFA and Olympic teams.
About Laser Therapy
Conditions Treated
The LiteCure Difference
Professional Success Stories
Laser Therapy Studies
---