Impulse Adjusting®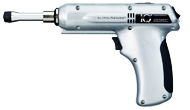 Just as lasers have replaced scalpels in some surgeries, advanced technology has become available to chiropractors to assist in delivering chiropractic adjustments. Chiropractic adjusting with the Impulse Adjusting Instrument® aims to restore your body's balance and function to correct the underlying cause of your symptoms with treatments that are as painless as possible. Getting you back to feeling yourself again quickly and effectively are our primary goals.

Chiropractic adjustments with the Impulse Adjusting Instrument® feel like a light tapping sensation on the area that is being treated. Impulse is 100x faster than manual chiropractic adjustments; the gentle thrust is faster than the body's tendency to tighten up and resist the adjustment. In most cases the treatment is painless and after the adjustment many patients feel relief of pain and improved mobility. Others report a sense of well-being or a soothing calm feeling. Of course, results vary from case to case and chronic conditions, inflammation, or muscle spasms may delay these positive effects.

Impulse is the instrument that is more advanced than Activator, ProAdjuster, and ArthoStim. And it is backed by thorough research!

Drs. Willie and Bobby are trained in both manual (hands on) adjusting as well as instrument adjusting. There are advantages to both types of treatment and Dr. Yip will work with you to determine if one or a combination of different types of treatment is right for you.


---
Impulse adjusting clinical studies